Are you looking to add a touch of glamour and elegance to your look? If so, why not give calligraphy nail designs a try? With the right tools and techniques, you can achieve beautiful results with this eye-catching art form. Whether you are a beginner or an experienced nail artist, this blog post will provide all the information and guidance required on how to create stunning calligraphy looks that will turn heads everywhere. So let's get started – read on for tips on which supplies and materials to use as well as step by step instructions for creating your own unique pieces in no time!
Create beautiful calligraphy nail art with these easy step-by-step instructions
Begin by gathering your supplies. You will need nail polish, a thin brush, and some paper towels. Make sure to prep your nails by filing them down and cleaning off any remaining dirt or oils.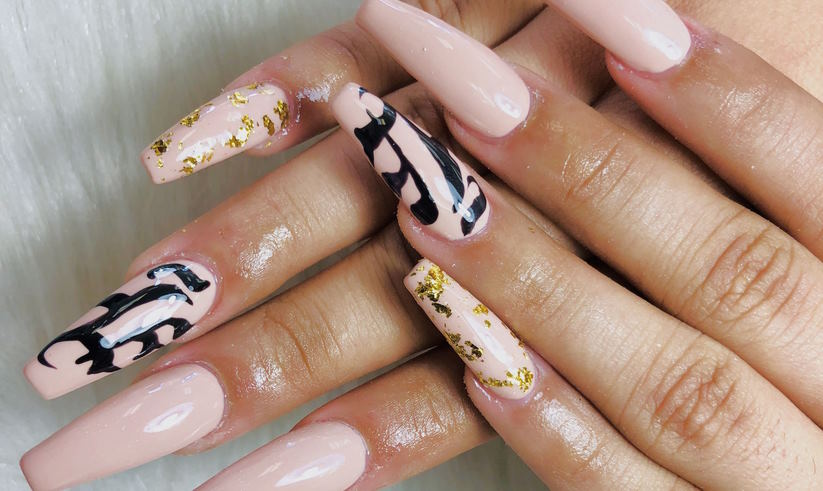 Take your thin brush and dip it in the nail polish of your choice. Start with the basics, such as dots and lines, to practice before attempting more complex designs. Be sure not to overload your brush with too much nail polish at once, as this can cause a mess on your skin. Once you have gotten comfortable with the basics, start creating detailed designs like flowers or words written in calligraphy-style script.
As you work on each nail, be sure to clean off any excess nail polish with the paper towel. Once your design is complete, let it dry completely before adding a clear top coat. With this easy tutorial, you can create beautiful calligraphy nail art in no time!
DIY tutorial on how to create modern calligraphy nail art
Creating modern calligraphy nail art is a fun and creative way to express yourself. With just a few simple supplies, you can easily create your own unique nail designs!
To start, you will need the following supplies:
Nail polish in any color of your choice
Tape (something that won't leave residue on your nails)
Toothpick or thin paintbrush (for painting finer details)
Top coat polish to seal the design when done.

Once you have all the supplies, follow these easy steps to get started:
Begin by applying 2 coats of nail polish onto each nail as desired, allowing time for drying between each coat.
Once nails are completely dry, use your tape to create straight lines in the desired pattern across each nail.
Next, use the toothpick or paintbrush to create a calligraphic look by drawing thin lines along each side of the tape, overlapping slightly at the top and bottom.
Once you have finished creating the design, carefully remove the tape from each nail and seal with a top coat polish for a long lasting manicure.
And there you have it! With these simple steps and supplies, you can easily create modern calligraphy nail art that will turn heads everywhere you go!
Happy Crafting! 😊