Are you ready to turn heads wherever you go? If so, this blog post is for you! We're here to help make sure your inner rocker goddess has what she needs to look and feel her best. From structured blazers to acid-washed jeans, we have outfit ideas that will get you looking like a total badass in no time. So if it's been awhile since you felt free and wild while walking the streets, now is your chance! Let us take care of making sure your wardrobe is updated with some timeless staples so that all eyes are on you when next out and about. Read on for five different looks that guarantee instant head-turning vibes.
Get the rocker chic look with these styling tips and trends
Start with the basics: a pair of skinny jeans, a tee-shirt, and your favorite shoes. For an edgier look, try ripped jeans or cargo pants. If you're feeling bolder, try leather pants for a rock & roll vibe. Layer on a few pieces like an oversized plaid shirt or a denim jacket to complete the look.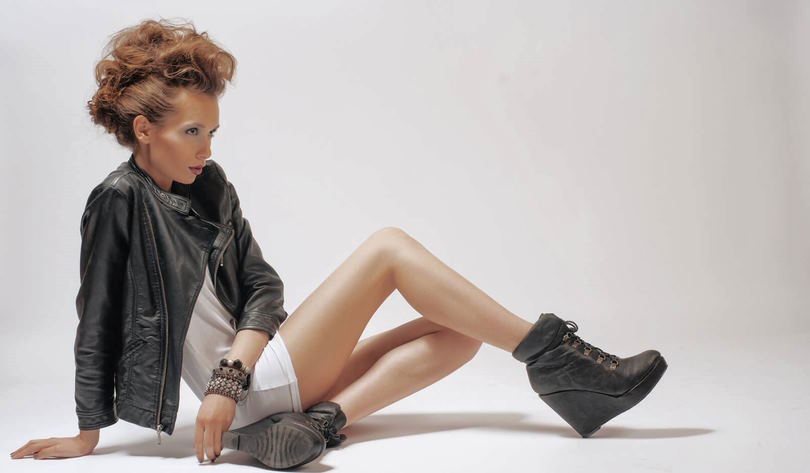 For accessories, ditch the dainty jewelry and opt for bigger statement pieces like chunky chains and spikes. Belt buckles are also essential for punking up any outfit. Regarding footwear, combat boots are always in style when going for that rocker chic look – but if those aren't your thing, try some cool sneakers like Vans or slip-on shoes.
For hairstyles, think big and bold! Wavy hair with a tousled texture is great for achieving that rocker chic style. Try messy braids or loose curls to make your look stand out. Add some temporary color using hair chalk, spray on color, or colored extensions to add pops of vibrant hues like magenta or teal for an eye-catching effect.
Finally, don't forget the nail art! Rocker chic nails typically feature lots of black and white designs with studs and spikes, so go crazy and have fun with it! For makeup, focus on the eyes – smoky eyeshadow in earthy tones works beautifully when paired with long black eyelashes. Bold red lips are also a staple of this look. With these tips and trends, you'll be rocking the rocker chic style in no time!
Unexpected ways to pull off the rocker chic style for any occasion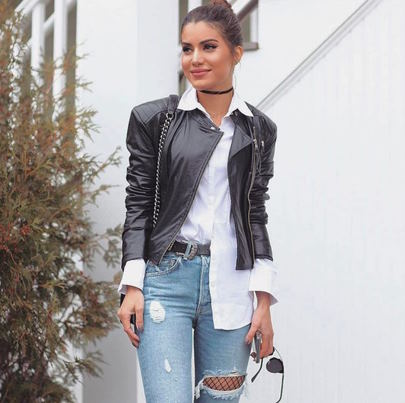 For an edgier look that works for any event, mixing distressed denim with a black graphic T-shirt, moto boots and layered jewelry can create a fashionable rocker vibe. Dress up the look by swapping out the distressed denim with colored leather pants and adding a long-line blazer. Heeled ankle boots also add sophistication to this style. To finish this look in true rocker fashion, layer on chunky jewellery such as multiple necklaces, earrings or stacks of bracelets to make your ensemble stand out even more. Experimenting with different textures is key to achieving the perfect rocker chic look!
For those who want the classic rocker stylishness but with a slight twist, slip dresses are a great way to incorporate the style into your look. Pair them with a cropped leather jacket and metallic boots for an effortless cool vibe. Add a bandana or plaid shirt around the waist for an added touch of grunge. Accessorize further by layering chunky chains or studded jewellery in different sizes to make your outfit stand out even more!
Regardless of what occasion you're dressing for, rocker chic is always on trend and looks great no matter how you put it together. With these styling tips, you can create statement looks that will turn heads wherever you go!
With its bold lines, edgy details, and timeless appeal, rocker chic is a style that will always be in fashion. So go ahead, embrace your inner rebel, and add a touch of rocker chic to any look!